There is a lot of change in the US advertising industry when it comes to identity resolution. Third-party cookies and mobile IDs are being pushed out in the name of consumer privacy.
The AppTrackingTransparency (ATT) framework that Apple plans to put into place in 2021 and the scheduled demise of cookies in Google's Chrome browser are forcing advertisers to rethink how they target and measure their ads. This process will happen over time, with new ways of doing things coming up as people adapt to the changes.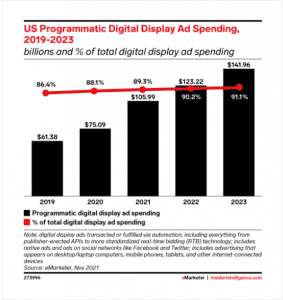 There is a lot at stake in shifting from widespread desktop and mobile identifiers to a more privacy-focused mindset. In 2022, the US is expected to spend $123 billion on programmatic display ads, which is a lot. According to data from Lotame, all of these companies lost an estimated $9.85 billion in the second half of 2021 because of ATT. Meta, Snapchat, Twitter, and YouTube all lost money together. Meta said it expects to lose another $10 billion in 2022 because Apple changed its privacy settings.
There will be more restrictions on identifiers in the next two years. In that time frame, Google plans to eliminate both Chrome cookies and mobile identifiers from its Android operating system. If privacy advocates win, IP addresses, used to track how many people watch connected TV, could also be scrapped. And the threat of more privacy-focused US government rules still hangs over the ad business.
This dynamic state of identity resolution has made a lot of money for tech companies that offer ID services. Many experts who Insider Intelligence interviewed think this number isn't going to last. They believe there will be a lot of consolidation in the next few years. This may already be happening, as evidenced by the recent acquisitions of Magnite, Digital Turbine, Microsoft, Twitter, and AppLovin, to name a few.
Because the changes in the identifier landscape will happen over time, marketers, publishers, and ad tech intermediaries have time to develop new ways to get their ads to people. A few companies are taking part in industry initiatives that stress compatibility across different platforms to stay ahead of the game. One of them is Unified ID 2.0 (UID2), which is open source and hosted by the Interactive Advertising Bureau (IAB). RampID is another. Yahoo, Google, and other companies have also come up with interoperable, privacy-first alternatives to cookies and mobile IDs.
It's not just about industry-based solutions. Some companies are going all-in on collecting and using first-party data, too. That's best for advertising agencies, brands, media companies, and retailers with the size, resources, and skills to run their programmatic ad businesses.
The future of ID resolution isn't clear. Still, the next few years will be a time of experimentation, with marketers, publishers, and ad tech companies looking for new ways to identify people while keeping their privacy in mind.