According to eMarketer, video will account for more than half of all programmatic digital display ad spending in 2022, up more than 4% from 2020.
Programmatic video has grown in popularity as a result of connected TV. However, issues including cross-platform measurement, ad fraud, and a lack of uniform standards continue to be a source of concern.
Automation is becoming more common in video advertising. Advertisers are turning to programmatic for efficiency and scale as video advertising spending grows. Programmatic video has an exciting future ahead of it.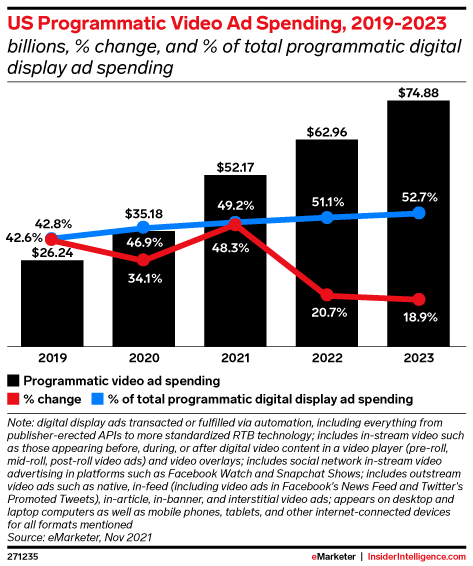 How much money will be spent on video advertising via programmatic?
Ad spending on programmatic digital video in the United States will reach $62.96 billion in 2022, up from $52.17 billion in 2021.
What gadget spends the most money on programmatic ads?
Mobile accounts for two-thirds of programmatic video advertising, but connected TV (CTV) earns more ad money, shrinking its share.
How quickly is the CTV ad spend on programmatic growing?
Following a spike of 82.4 percent in 2021, programmatic CTV is expected to rise by 39.2 percent this year.
What obstacles might prevent programmatic video from becoming more popular?
Lack of uniform standards, difficulty measuring across devices, and ad fraud are all issues that programmatic video faces.
Programmatic Media and the Next 10 Years – What Does it Look Like?
More Information on eMarketer and this report can be found here.