TikTok has become a very popular online destination for American teenagers, while Facebook usage among teenagers has dropped significantly.
August 11, 2022
The social media ecosystem is constantly evolving, particularly among teenagers, who are frequently at the forefront of this market. TikTok has experienced a swift rise in popularity since making its North American debut a few years ago and is now one of the most popular social media platforms for youths among those surveyed, according to a new Pew Research Center survey of American teenagers aged 13 to 17 released yesterday. The Center's 2014–15 poll found that Facebook was the most popular social media network among teens, although that percentage has now dropped to 32% from 71%. 67% of teenagers claim to have used TikTok at some point, with 16% of all teenagers claiming to use it reasonably daily.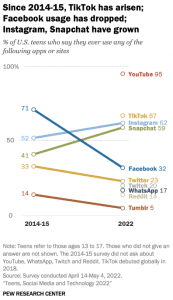 With 95% of teens using it, YouTube dominates the teen online world in 2022 among the platforms examined in the Center's latest survey. Next on the list of sites mentioned in the poll is TikTok (67%), followed by Instagram and Snapchat, which are used by roughly six out of 10 teenagers. Following those sites are Twitter, Twitch, WhatsApp, Reddit, and Tumblr, with lesser user shares, followed by Facebook with 32%.
Beyond TikTok's growth and Facebook's decline, the social media environment changed significantly between 2014 and 2015. Since then, many teenagers have claimed to use Instagram and Snapchat. In contrast, the proportion of teenagers who reported using Twitter and Tumblr decreased. Additionally, Google+ and Vine, two platforms the Center studied earlier, are no longer in use.
Teens' social media preferences show some noticeable demographic variations. Adolescent girls are more likely than teen boys to use TikTok, Instagram, and Snapchat, for instance, while teen guys are more likely to report they use YouTube, Twitch, and Reddit. Additionally, compared to White teens, a higher percentage of Black and Hispanic teens report using TikTok, Instagram, Twitter, and WhatsApp.
The frequency of teen use of the leading five online platforms—YouTube, TikTok, Instagram, Snapchat, and Facebook—is also examined in this study. Teenagers use at least one of them "nearly daily," according to 35% of them. Teen YouTube users are closely followed by teen TikTok and Snapchat users in terms of engagement on these platforms. A fifth of teen YouTube users and a quarter of teens who use Snapchat or TikTok claim to use these applications almost daily. When surveyed as a whole, 19% of teens claim to use YouTube, 16% TikTok, and 15% Snapchat almost constantly.
Read/Download the full research report from Pew Research here.  Read/Download the Topline Questionaire from pew Research here.
To access the Pew Research 2014-2015 survey, click here. For more information on this report originally published by Pew Research on August 10, 2022, visit Pew Research.  The Original Article – Acknowledgements – Methodology can also be found by visiting Pew Research.