Three new ad formats are coming to Twitter, which will make your feed more interesting for advertisers.
Starting with "Interactive Text Ads," Twitter will allow advertisers to link landing sites to specific phrases within their ad copy.
Text Ads
These text ads will appear in a larger, bolder font in the timeline. Up to three words in an ad can be highlighted and clicked to direct customers to brand-specific landing pages.
Brands can also choose from ten different highlight colors for their phrases, making this an eye-catching and potentially scroll-stopping factor.
Currently, a few US-based firms are piloting the new Interactive Text format.
Product Explorer Ads
Product Explorer ads let visitors swipe and rotate the item within your promoted tweet to examine your products from different angles.
Facebook, Pinterest, Instagram, and Snapchat all have similar features, but Twitter is the first to offer a fully interactive 3D display. It also looks excellent and will likely be a popular choice as more manufacturers adopt it.
The last test allows marketers to display a collection of photos alongside the main tweet emphasis.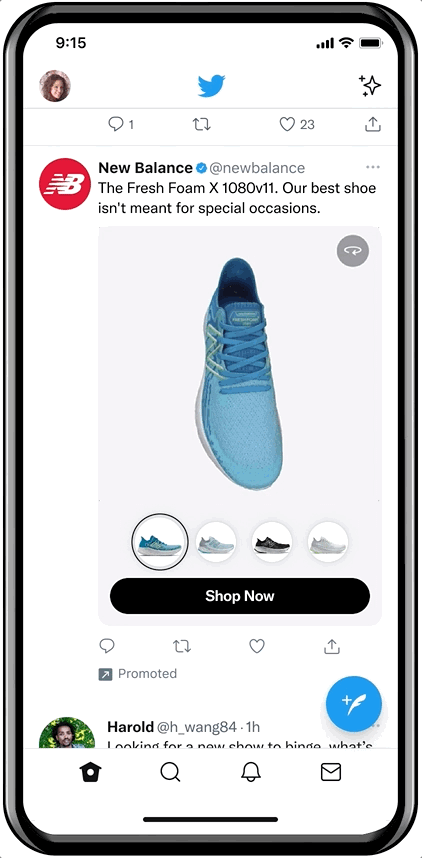 Collection Ads
Brands can show a large hero picture with up to five thumbnails underneath. The main image remains static, while buyers can scroll horizontally among the thumbnails. 
The images in your collection can direct visitors to multiple websites or product landing pages.
Twitter is currently testing Collection Ads in the US with marketers.
The interactive parts will operate across all app versions, including iOS, Android, and the web.
They're undoubtedly interesting experiments—some of Twitter's most ambitious ad formats ever—and the network needs to do everything to introduce additional possibilities and attract more advertisers over the next two years.
Which these will undoubtedly do—but not yet fully launched: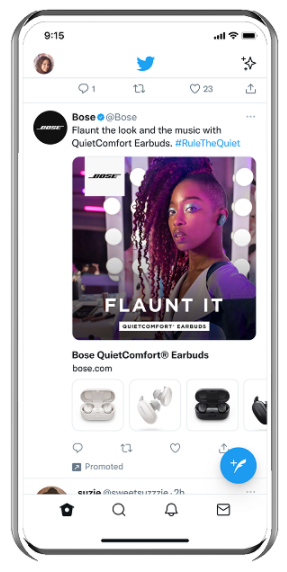 The new ad types will be available soon to all businesses and locations, giving you more options to engage your Twitter audience.
More on Twitter's new ad trials here.